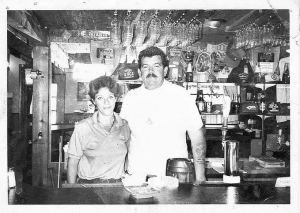 The New England Eatery and Pub has been opened for over 30 years in Brevard County, Florida. It has been owned and operated by Rosemary and Walter Smith who are originally from New England.
In 1986, Walter and Rosemary moved their family down to Florida from Massachusetts and decided to open a fresh New England style seafood restaurant so they could enjoy their favorite foods from back home. They started out in a small shopping mall off of Palm Bay road in Palm Bay Florida. This is where their restaurant thrived and became a well known New England style seafood restaurant. From there, Walter and Rose opened another location, here, in Melbourne beach Florida in 1995*. Once this location was well established, they moved their Palm Bay location to a larger shopping mall, more west on Palm Bay Road in Stack Plaza. After a few years of running 2 restaurants, the Smith family decided to sell their Palm Bay location. This location has been the only originally New England Eatery & Pub since 2002*.
At the New England Eatery & Pub, we strive ourselves on serving the freshest seafood possible & specializing in New England style seafood. Our logo speaks for itself: New England style seafood with a fresh Florida attitude. With this location of the New England Eatery and Pub, we cater to our locals all year round and then to our snow birds who come in the winter to enjoy their delicious home style seafood. Even though our locals enjoy our New England style cuisine, we have introduced many Floridian entrees to our menu over the years to try and keep all of our customers happy and hungry to come back time after time.