Date

Aug 14, 2017

Hour

12:00 am - 11:59 pm

Address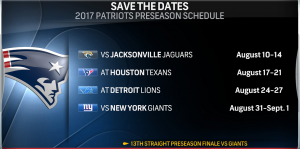 The last game the New England Patriots played saw them come back from a 25-point deficit to win their fifth world championship. The Super Bowl took place more than two months ago but the Patriots are still a long way from once again stepping on a football field; especially when it comes to playing a competitive game.
Today, we received a bit clearer picture as the league released its 2017 preseason schedule – and the Patriots will play the following games:
Week 1 (August 10-14): vs. Jacksonville Jaguars

Week 2 (August 17-21): at Houston Texans

Week 3 (August 24-27): at Detroit Lions

Week 4 (August 31-September 1): vs. New York Giants
New England will kick off its preseason at home against the Jacksonville Jaguars before traveling to Houston to play the Texans. As has been the case in the past, the team's first two preseason games will likely be used for joint practice sessions with the opponents. The Patriots joining forces with other teams during the preseason has become an annual tradition.
http://www.patriots.com/schedule-and-stats